Catchment Area / Hours of Operation
We support individuals and families in need in the Central-Etobicoke area. In 2017, we provided food for 28, 570 individuals.

Service Area Boundaries:
Bloor St. to the South
Eglinton Ave. to the North
Kipling Ave. to the East
Etobicoke Creek to the West.
We are open almost every Wednesday from 1 pm to 4 pm.
Wednesday Closures:
Closures are usually due to a statutory holiday that week, which prevents us from receiving food delivery.
Upcoming Wednesday Closures:

February 23, 2022
April 6, 2022
May 25, 2022
July 6, 2022
August 3, 2022
September 7, 2022
October 12, 2022
November 30, 2022
December 28, 2022
If you live outside our boundaries and need help, click on the 211 button below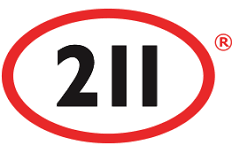 211 provides information on financial assistance, mental health support, employment support, childcare, housing, food, clothing and shelter.
Find help at 211central.ca or call/chat/text/email 2-1-1.